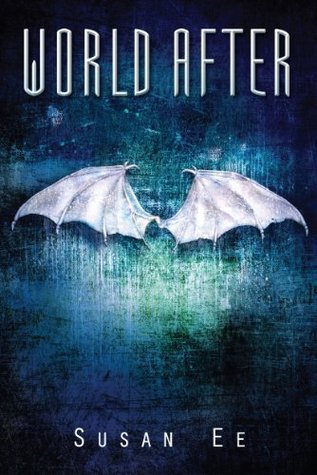 by Susan Ee
Source: Netgalley
Goodreads Synopsis: 
In this sequel to the bestselling fantasy thriller, Angelfall, the survivors of the angel apocalypse begin to scrape back together what's left of the modern world.
When a group of people capture Penryn's sister Paige, thinking she's a monster, the situation ends in a massacre. Paige disappears. Humans are terrified. Mom is heartbroken.
Penryn drives through the streets of San Francisco looking for Paige. Why are the streets so empty? Where is everybody? Her search leads her into the heart of the angels' secret plans where she catches a glimpse of their motivations, and learns the horrifying extent to which the angels are willing to go.
Meanwhile, Raffe hunts for his wings. Without them, he can't rejoin the angels, can't take his rightful place as one of their leaders. When faced with recapturing his wings or helping Penryn survive, which will he choose?
My Review:
3 of 5 Stars
After reading Angelfall (See my review), the first book in this series, I was really excited to read this.  I had really enjoyed the first book and wanted to know what happened next.  The book started out fairly interesting and while I really like the story line this second book was far more creepy than the first.  Perhaps because the first is primarily Penryn traveling with Raffe where as this book is more about the aftermath of what happened in Angelfall.  A lot of the world building is done, we know most of the characters though we do get to see some new ones, and old ones in a new light.  The character that oddly stood out to me was Penryn's Mom.  She has uncontrolled severe paranoid schizophrenia. While I think some of her actions may be on the extreme side it was much closer to a realistic illness than not.  Some of the things alluded to in the book including her mother annoyed me but I still wouldn't say they'd be 100% inaccurate either.  Raffe wasn't in this book as a main focus though he did make some appearance through out.  That didn't bother me as much as I expected though.  I think what put me off from the book the most was some of the graphic depictions of violence and gore.  I hadn't really expected them and normally wouldn't have minded much.  Without giving spoilers all I can say is it's more about who is involved and the general context of this theme that turned me off.  If you are more a fan of horror than me, you'd probably enjoy this much more.  I still can't help but really enjoy the series and the way the story is unwrapping.  I'll be looking out for the next book, End of Days, which is due for release on May 12th!
 FTC Disclosure: I received this free from the publisher in exchange for an honest review.  This in no way influenced my opinion of the book and I was provided with no other compensation.