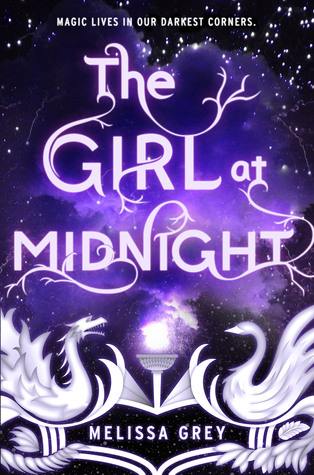 The Girl at Midnight
by Melissa Grey
Source: Netgalley and Random House Children's Books
Goodreads Synopsis:
For readers of Cassandra Clare's City of Bones and Leigh Bardugo's Shadow and Bone, The Girl at Midnight is the story of a modern girl caught in an ancient war.
Beneath the streets of New York City live the Avicen, an ancient race of people with feathers for hair and magic running through their veins. Age-old enchantments keep them hidden from humans. All but one. Echo is a runaway pickpocket who survives by selling stolen treasures on the black market, and the Avicen are the only family she's ever known.
Echo is clever and daring, and at times she can be brash, but above all else she's fiercely loyal. So when a centuries-old war crests on the borders of her home, she decides it's time to act.
Legend has it that there is a way to end the conflict once and for all: find the Firebird, a mythical entity believed to possess power the likes of which the world has never seen. It will be no easy task, but if life as a thief has taught Echo anything, it's how to hunt down what she wants . . . and how to take it.
But some jobs aren't as straightforward as they seem. And this one might just set the world on fire.
My Review:
4 of 5 Stars
The premise of this book was incredibly interesting to me.  The struggle to end a war that's been going on for longer than many can even remember.  The beginning of the book is a bit slow as world building and getting to know the characters is going on.  A lot of this kind of dragged for me.  Things were happening but it was fairly slow.  Because it was slow even tense situations had a bit less emphasis.  Things did start picking up however and the world building didn't stop – it just got better.  I appreciated how it isn't a good verses evil type of story.  Yes there are good characters and bad characters – but both sides have them.  There was a bit of a romance aspect to the book that I could have done without but it wasn't bad either.  What I enjoyed most though was the characters which I felt I got to know really well.  Because of how slow some of it went, it gave me time to really become attached in a way I otherwise wouldn't have.  Once the action built up, it seemed to go much faster.  The ending of the book nearly left me gasping a little.  As a warning this will give you what I refer to as 'book hangover' – the desperate need for more!  This is for sure a series I'll keep on my radar.
 FTC Disclosure: I received this free from the publisher in exchange for an honest review.  This in no way influenced my opinion of the book and I was provided with no other compensation.