My Spring Fling: The Time Travelers Wife by Audrey Niffenegger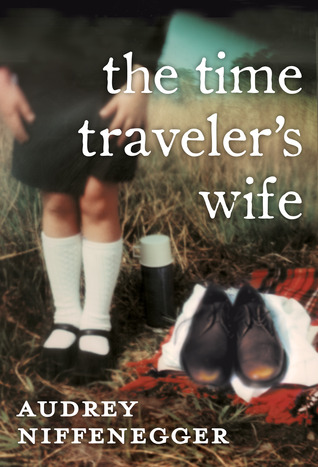 Goodreads Summary:
A dazzling novel in the most untraditional fashion, this is the remarkable story of Henry DeTamble, a dashing, adventuresome librarian who travels involuntarily through time, and Clare Abshire, an artist whose life takes a natural sequential course. Henry and Clare's passionate love affair endures across a sea of time and captures the two lovers in an impossibly romantic trap, and it is Audrey Niffenegger's cinematic storytelling that makes the novel's unconventional chronology so vibrantly triumphant.
An enchanting debut and a spellbinding tale of fate and belief in the bonds of love, The Time Traveler's Wife is destined to captivate readers for years to come.
Spring Fling Review:
I am not normally a fan of romance.  Equally, I'm really not a fan of romance that revolves around destiny and soul mates and eyes meeting across vast distances.. you know, that stuff.
Perhaps it's the way the book spins this romance.  Maybe because I will read almost anything with time travel.  This book makes me cry even after I've read it countless times and know the story by heart.  The romance in this book isn't something that's suddenly magically appearing across a field of flowers.  It's time spent together, secrets shared, unsure looks, insecurities, awkwardness, all of the things of real love.  But.. what's so interesting is how Henry and Clare experience these things completely separately.  It's both realistic and somehow fulfilled by destiny and fate.
There is a movie and I've made the actual choice to not see it as of yet because of how much I adore this book.  Is it even remotely possible to appreciate the movie after I've seen all these things happening in my mind over and over?  Who knows.  I've also recently found out there is a sequel to this book in the works – woah.
 Keep going on the blog hop to other spring flings!
A Thousand Words, A Million Books

Shade Tree Book Reviews and Blog