In the past I've tried watching anime.  I honestly didn't really understand what the big deal was, perhaps I just wasn't picking the right titles for me.  Plus the whole battle between subtitles and dubs – it just confused the heck out of me.  I got stressed out trying to figure out all of the different terminology and just didn't have a good time.  I saw some graphic novels on Netgalley that I really was curious about so I figured I'd try them out. Trees and Outcast were some of my first and I instantly became really curious.  I got more and my curiosity spilled over into actual anime and manga.  Today I'll focus on just a few that I've been enjoying in my noob quest.
If you'd like to read any of these – I read all of my manga on Manga Traders and to see what else I'm reading check out my list on MyAnimeList.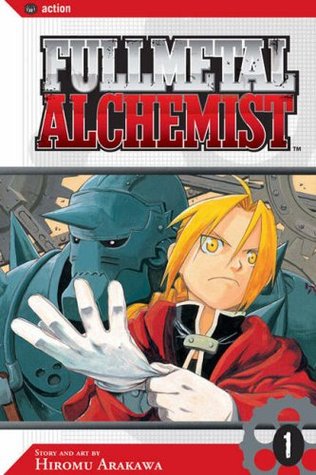 Fullmetal Alchemist
I had heard of this anime from Nanalew's Anime 101 Series and also knew from my steampunk reading challenge it had started as a manga. I've seen it's incredibly popular and wondered why.  Every time I heard the name I couldn't help think of Fullmetal Jacket which I've always found to be a very creepy movie.  But I started reading and went through the entire first 2 volumes right then.  I love the characters in this – I love the plot in this.  I love that it's just that right amount of weird for a noob like me.  I believe I'm on volume 5 now and I'm trying not to just rush through it because I kind of want to be with these two brothers forever.
Clockwork Planet
The title alone caught my attention as I was scanning through a list of titles.  I'm a big fan of steampunk anything and this seemed like it might fit into that catagory. After the first page – I read all the chapters currently published in one sitting.  I loved the story – an entire planet made of exclusively of gears.  I loved the artwork, especially the pages which included gears.  Ryuzu is my favorite both in character and in the way she is drawn.  I love the gear piece she has on the side of her head.  The only downside with this is that it's ongoing and I believe monthly – the wait between chapters is painful.
Soul Eater
I read the description of this and was curious.  I admit I'm still pretty confused as to what's going on.  Oddly I still really like it and know the further I read most likely I'll get the hang of what's going on.  This one for sure has some more adult content in it (almost nudity) – and more than once I was groaning at certain characters actions and the motivations.  I'll be checking out the anime after I'm done reading too.
One Piece
I like this one a lot because it's fun and full of adventure – pirates are a bonus.  My fiance actually recommended it and might join me reading this as he's read a bit of it before.   An added benefit for me is that this is ongoing and has a ton of chapters already ( 783 as of this post!).  It will take me quite some time to catch up on this one but I'm really enjoying it and it cheers me up.
Feel free to let me know anything I should check out or your favorite Manga in the comments below – there are so many available it's easy to get lost!